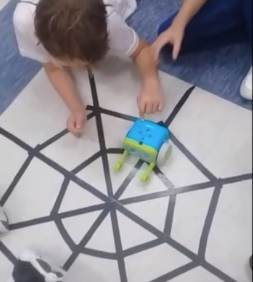 TITINA ANT Y1 – PROJECT LED BY MUSIC AND DESIGN & TECHNOLOGY
Y1- LA HORMIGA TITINA – PROYECTO DE MÚSICA Y DISEÑO Y TECNOLOGÍA
Olivos Primary Y1
Y1 students worked in a blended project  with Music and Design and Technology together. The starting point was ¨La hormiga Titina¨ ´s song by María Elena Walsh. They learnt to sing it, to act it out and to accompany it with some musical instruments.
Once the song was familiar to them, during D&T students learnt to program the movements of the ant on a digital spider-web created by them using Scratch Junior.
After that, they designed a spider web for the Botley robot so that he could move around, taking into account that its sensor allows it to move.
It was a fun and complex learning process which involved a wide variety of skills, including social skills while working in teams.
You can appreciate a summary of it in the video below.
Los alumnos de Y1 trabajaron durante marzo y abril en un proyecto integrado entre Música y Diseño y tecnología.
Sobre la canción de María Elena Walsh "La hormiga Titina". Aprendieron a cantarla, representarla y acompañarla con instrumentos.
Una vez conocida la canción en D&T aprendieron a programar los movimientos de la hormiga en una tela de araña dibujada por ellos con el programa Scratch junior.
Luego diseñaron una tela de araña para que el robot Botley se moviera, comprendiendo el significado del sensor que le permite desplazarse.
Fue un aprendizaje divertido, complejo y que involucró varias habilidades siempre trabajando en equipo.
Aquí les presentamos una síntesis del mismo de 4:25 de duración.